EXPLORE ETERNAL SPRING WITHIN JEWEL
Step out of the airport right into a lush green sanctuary, a tranquil retreat in the core of the world's best transport hub. Immerse yourself in this garden wonderland and meet Singapore, the City in a Garden.
Practical Information
Allow half an hour for each trail, at a comfortable pace with ample time for photo-taking. There are several exit points and seats along the way.
Luggage and wheeled bags are not allowed, but can be left at our baggage storage.
    - Suitable for all ages
    - High heels not recommended
MORE ABOUT
SHISEIDO FOREST VALLEY
Shiseido Forest Valley
Explore idyllic landscapes bathed in natural sunlight, a spectacular waterfall at the core. You'll discover intriguing plants from all around the world, with more than 900 trees and palms, and about 60,000 shrubs in this verdant indoor garden.
Walking Trails
Take a gentle hike up through the Shiseido Forest Valley to the Canopy Park on Jewel's topmost level. The eastern trail leads you past rocky falls, while mists enhance your trek through the western trail. Admire the wide vistas across the Shiseido Forest Valley and find enchantment at every turn.

Shiseido Forest Valley Christmas Specials (21 Nov 2019 - 5 Jan 2020)
Every S$50 spend* entitles you to 2 same-day entry tickets to the Shiseido Forest Valley (ticketed admission from 5pm to 11.30pm).
Soak up the sparkling wonders of Christmas at the Shiseido Forest Valley and get ready to experience a dazzling wonderland like no other. Don't miss the Christmas Light-up every evening from 6.30pm!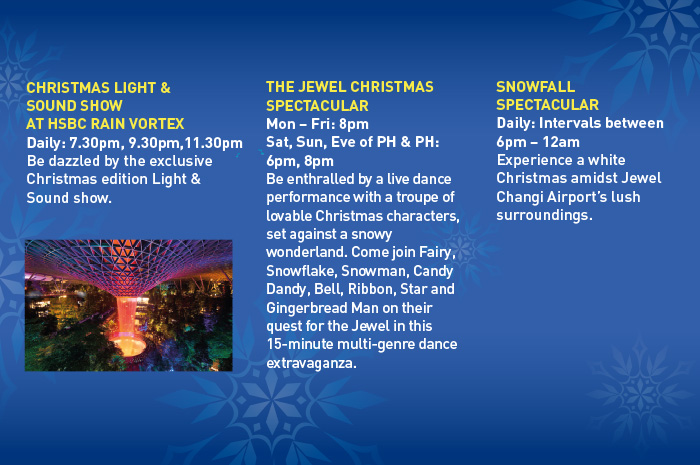 Entry slot(s) can be redeemed via QR codes issued with each qualifying receipt in-store.
Entry Redemption Instructions:
STEP 1: Scan the QR Code issued with your receipt to book your entry slot(s)
STEP 2: Secure your slot(s) to experience the nightly Christmas Spectacular at the Shiseido Forest Valley
STEP 3: Bring your mobile tickets to the Xmas tree at L1 entrance (next to Violet Oon)
*While stocks last. T&Cs apply.