PLAY AMONGST THE CLOUDS
Let your toddler slip in among puffs of cloud and hide away in gentle bowls of mist. Kids will love the chance to play in this dreamy setting and let their imagination take flight.
Recommended attire: Comfortable covered shoes.

[ADVISORY]  In line with the Singapore Government's enforcement measures to limit social gatherings, please be informed that Foggy Bowls are closed till further notice.
Practical information
Recommended attire: Comfortable covered shoe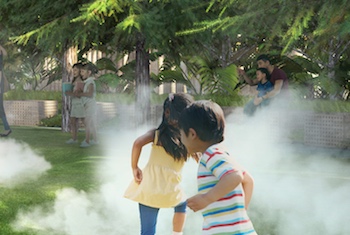 Merry-making in the mist
Chasing swirls of mist that evoke mystery and make-believe, kids can indulge their dreams of playing in the clouds. There's ample space to romp around—watch your little ones' faces light up as they bask in the pools of mist.