PLAY AMONGST THE CLOUDS
Let your toddler slip in among puffs of cloud and hide away in gentle bowls of mist. Kids will love the chance to play in this dreamy setting and let their imagination take flight.
Recommended attire: Comfortable covered shoes.


Practical information
Recommended attire: Comfortable covered shoe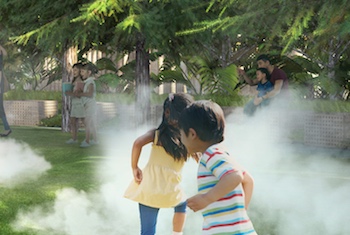 Merry-making in the mist
Chasing swirls of mist that evoke mystery and make-believe, kids can indulge their dreams of playing in the clouds. There's ample space to romp around—watch your little ones' faces light up as they bask in the pools of mist.

Free 3 months of unlimited fun with Bundle 2 & Bundle 4
The promotion has ended on 10 August 2020. 
For guests who have purchased the tickets, please book your preferred timeslot below for repeat visits. 

Terms apply. Strictly online ticket sales only. Patron's account holder must be present with the group on the day of  their visit.
FOR EXISTING TICKET HOLDERS,
BOOK YOUR NEXT VISIT HERE
FOR EXISTING TICKET HOLDERS,
BOOK YOUR NEXT VISIT HERE