PLAY AMONGST THE CLOUDS
[Advisory] Guests holding Jewel attractions tickets dated within these two weeks will be able to utilise them on alternative dates upon reopening. The validity period of these tickets will be extended till 31 December 2021. Guests are advised to email contact.us@jewelchangiairport.com or visit the respective reseller website of purchase (including SRV purchases) for more details on the process of ticket extension.
Let your toddler slip in among puffs of cloud and hide away in gentle bowls of mist. Kids will love the chance to play in this dreamy setting and let their imagination take flight.
Recommended attire: Comfortable covered shoes.


Practical information
Recommended attire: Comfortable covered shoe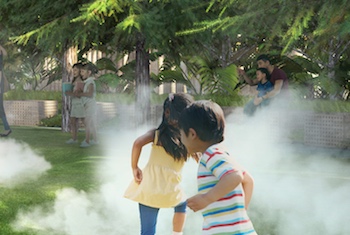 Merry-making in the mist
Chasing swirls of mist that evoke mystery and make-believe, kids can indulge their dreams of playing in the clouds. There's ample space to romp around—watch your little ones' faces light up as they bask in the pools of mist.