A SCULPTURAL PLAYSCAPE
It's a work of art; it's a playground; it's a viewing deck… Spiral down in enclosed tube slides or descend over open inclines. Discover for yourself the different ways to enjoy this giant sculptural playscape!
MORE ABOUT
DISCOVERY SLIDES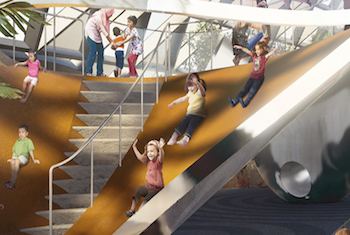 Scenic climbs and fun slides down
Climb up to the viewing deck at the rim of this magnificent play structure for panoramic views. The Discovery Slides is Singapore's first large-scale interactive sculpture for the young and young-at-heart.