EVENING OF ENCHANTMENT
A FIRST-OF-ITS-KIND PERFORMANCE AT JEWEL 
Join us for an ethereal performance event featuring Benjamin Kheng, Annette Lee, and the Handbell ensemble, Ministry of Bellz. Hosted by the charismatic Naomi Yeo, this evening promises to transport you to a world of magic, wonder and snowfall! Don't miss this one-night-only performance at Jewel!

Performing Artistes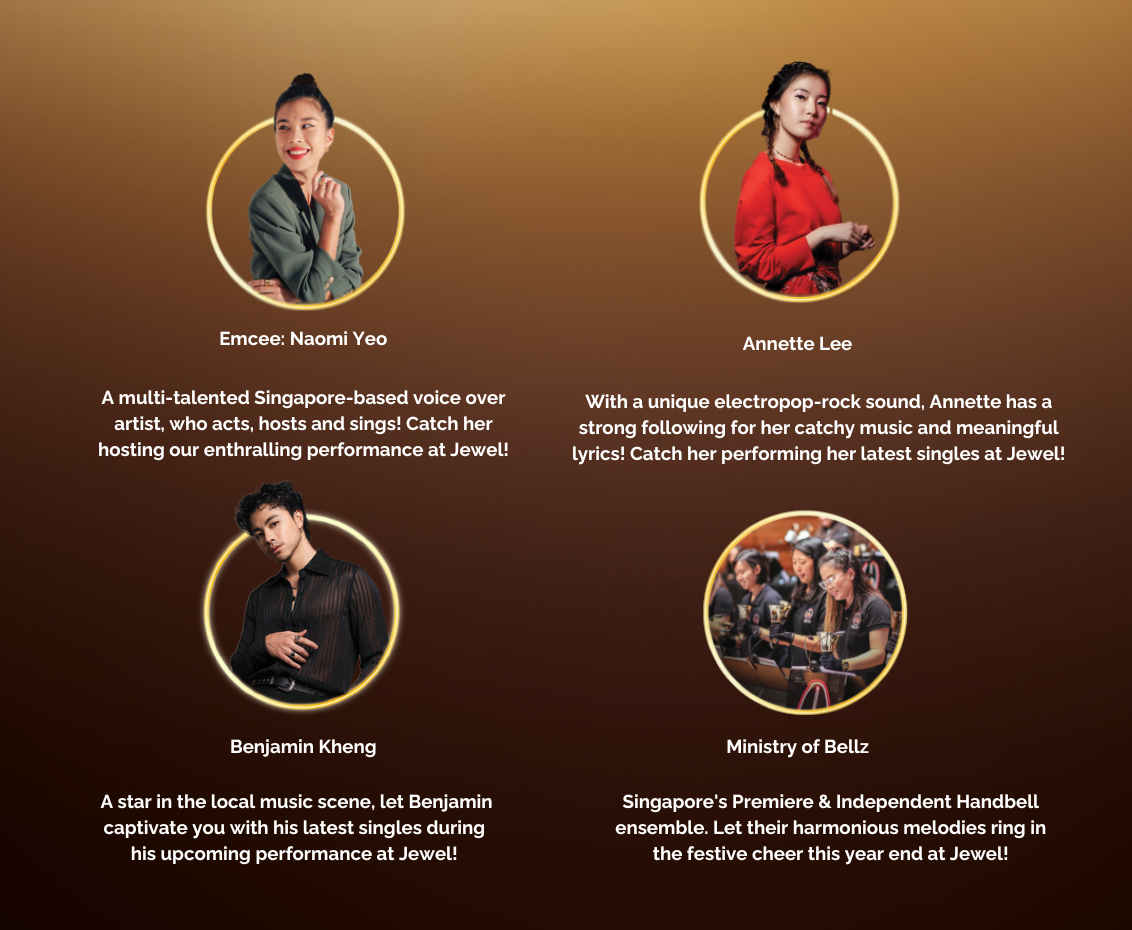 IMPORTANT TO NOTE FOR TICKET PURCHASE:
For Group Buy:
Maximum purchase limit is 6 tickets per transaction.
For 12 tickets, kindly restart the purchase process. For purchase of 20 or more tickets, please email: marcom@jewelchangiairport.com
For Mastercard Special:
Only Mastercard payment is accepted for this special rate. Using other cards will result in an error message.
The error is not a card issue but indicates an incorrect card usage.
For PlayAtJewel Members, Staff and Partners Rate:
Refer to the emailed instructions to purchase tickets at preferential rates.
Ticket purchaser must be present with his/her valid PlayAtJewel membership or provide proof of staff, or partner status at the event entrance.
Age Restrictions:
Those aged 4 and above will be required to purchase a ticket for admission. All children below 12 years old must be accompanied by a parent or guardian who must also have a valid ticket for admission.

ENTRY PROCEDURE FOR EVENT ATTENDEES:
1. Ticket Verification:
Please have your QR code ready for verification (refer to 2).
For attendees who purchased tickets via corporate bulk purchase, or attendees who won tickets via giveaways, please ensure you have either your confirmation email or letter on hand for wristband collection (refer to 3).
2. QR Code Verification:
Upon reaching the entry point, attendees should:

Flash their QR code to the ticketing staff member for verification.
Once the QR code is successfully scanned and verified, you will receive a wristband for access to the event.
3. Confirmation Email or Letter:
Attendees who purchased tickets via corporate bulk purchase, or attendees who won tickets via giveaways should:

Show your confirmation email or the giveaway letter to the ticketing staff member.
The staff member will verify the details, and upon confirmation, you will receive a wristband for access to the event.
4. Wristband Collection:
After the verification of your QR code or confirmation email/letter, you will be given a wristband.
Wristbands serve as your access pass to the event and should be worn visibly at all times during the performance.
5. Enjoy the Show:
With your wristband securely in place, you may proceed to enter the event area.
Find your preferred spot and get ready to enjoy the captivating performances by Benjamin Kheng, Annette Lee and Ministry of Bellz.

FAQ
WHAT SHOULD I DO IF I ENCOUNTER A "FAILED TO CREATE BOOKING" ERROR DURING TICKET PURCHASE?
This could be due to an unstable internet connection. Switch from Wi-Fi to mobile data (or vice versa) before restarting your app, and click on the "Add To Cart" button again. If the issue persists under strong internet connectivity, kindly log out and log in again to re-attempt the purchase. Do ensure that you have installed the latest app update available on your App/Play Store, or enable auto update to  receive latest bug fixes (if any).
WHAT SHOULD I WEAR?
We encourage eventgoers to be dressed in comfortable attire.
WHEN SHOULD I ARRIVE?
Admissions open 30 minutes before the start of the performance. The performance is open seating. Arriving 30 minutes before the concert begins will give you plenty of time to find a good place to sit and socialise with your fellow eventgoers before the performance starts.
HOW LONG DOES THE EVENT RUN?
The performance is 120 minutes long, with no intermission. Please feel free to leave the venue anytime should you need to use the washroom; re-entry is allowed at any time during the performance. Eventgoers have to show their wristband to re-enter the venue.
CAN I BUY TICKETS AT THE DOOR OR DO I NEED TO BUY THEM AHEAD OF TIME? WHAT PAYMENT METHODS ARE ACCEPTED?
Tickets can be purchased prior to the concert by clicking on the "BUY TICKETS" button on this webpage or via Playpass on the Changi App.  We recommend you to purchase the tickets prior to the performance to avoid disappointment. Please note that tickets are subjected to availability and sold on a first-come-first-served basis.
Payment can be made via any major credit cards (Mastercard, VISA, JCB, AMEX, UnionPay).  Do note that there is a Mastercard® Cardholders Special Rate.
HOW WILL I GET MY TICKETS?
Tickets are purchased through PlayPass on the Changi app. Upon successful purchase of tickets, a confirmation email will be sent to you. The tickets are stored on the Changi app. On the day of the performance, simply flash your Changi Rewards membership QR code to the ticketing staff and they would be able to retrieve your ticket details.
IF I CANNOT MAKE IT TO THE CONCERT, CAN I GET A TICKET REFUND?
Please refer to clause 5 of our terms and conditions for our refund policy.
WHAT HAPPENS WHEN A PERFORMANCE IS CANCELLED OR POSTPONED?
Should the performance be cancelled, ticket buyers will be duly notified by the event organiser primarily via email. You may also be notified through the event organiser's authorised ticketing agent or any other applicable communication channels. Information will be provided on where and when you can get your refund. Refunds are not applicable for postponed performances.