TAKE A WALK THROUGH THE AIR
[Advisory] Guests holding Jewel attractions tickets dated within these two weeks will be able to utilise them on alternative dates upon reopening. The validity period of these tickets will be extended till 31 December 2021. Guests are advised to email contact.us@jewelchangiairport.com or visit the respective reseller website of purchase (including SRV purchases) from 18 May, for more details on the process of ticket extension.

Suspended 23 metres above ground, take a walk on the Canopy Bridge for a gripping vantage point. With a glass bottom at the centre portion and fog emitted at both ends, experience what it feels like to walk among the clouds.
Practical information
Recommended attire:                                

    - Pants or shorts                                   
    - Comfortable covered shoes
Luggage and wheeled bags are not allowed for safety reasons. Please leave your bags at the Baggage Storage.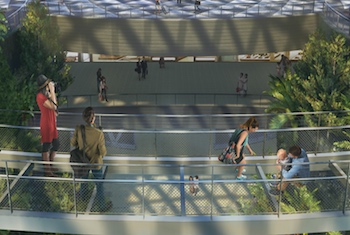 Enticing views through glass floors
See through the Canopy Bridge's glass floor panels for an immersive view of the greenery surrounding you.