TAKE A WALK THROUGH THE AIR
Suspended 23 metres above ground, take a walk on the Canopy Bridge for a gripping vantage point. With a glass bottom at the centre portion and fog emitted at both ends, experience what it feels like to walk among the clouds.
Practical information
Recommended attire:                                

    - Pants or shorts                                   
    - Comfortable covered shoes
Luggage and wheeled bags are not allowed for safety reasons. Please leave your bags at the Baggage Storage.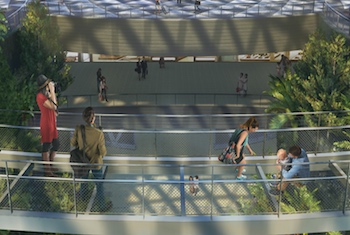 Enticing views through glass floors
See through the Canopy Bridge's glass floor panels for an immersive view of the greenery surrounding you.

Free 3 months of unlimited fun with Bundle 2 & Bundle 4
The promotion has ended on 10 August 2020. 
For guests who have purchased the tickets, please book your preferred timeslot below for repeat visits. 

Terms apply. Strictly online ticket sales only. Patron's account holder must be present with the group on the day of  their visit.
FOR EXISTING TICKET HOLDERS,
BOOK YOUR NEXT VISIT HERE
FOR EXISTING TICKET HOLDERS,
BOOK YOUR NEXT VISIT HERE