An inside scoop of Scoot's partnership with The Pokémon Company
Spotted a colourful aircraft with adorable characters around Changi Airport recently? That's right, it's Scoot's Pikachu Jet. Scoot is the first ASEAN airline to partner with The Pokémon Company (TPC) to bring this one-of-a-kind travel experience to consumers in Singapore and countries to which this Boeing 787-9 Dreamliner will operate.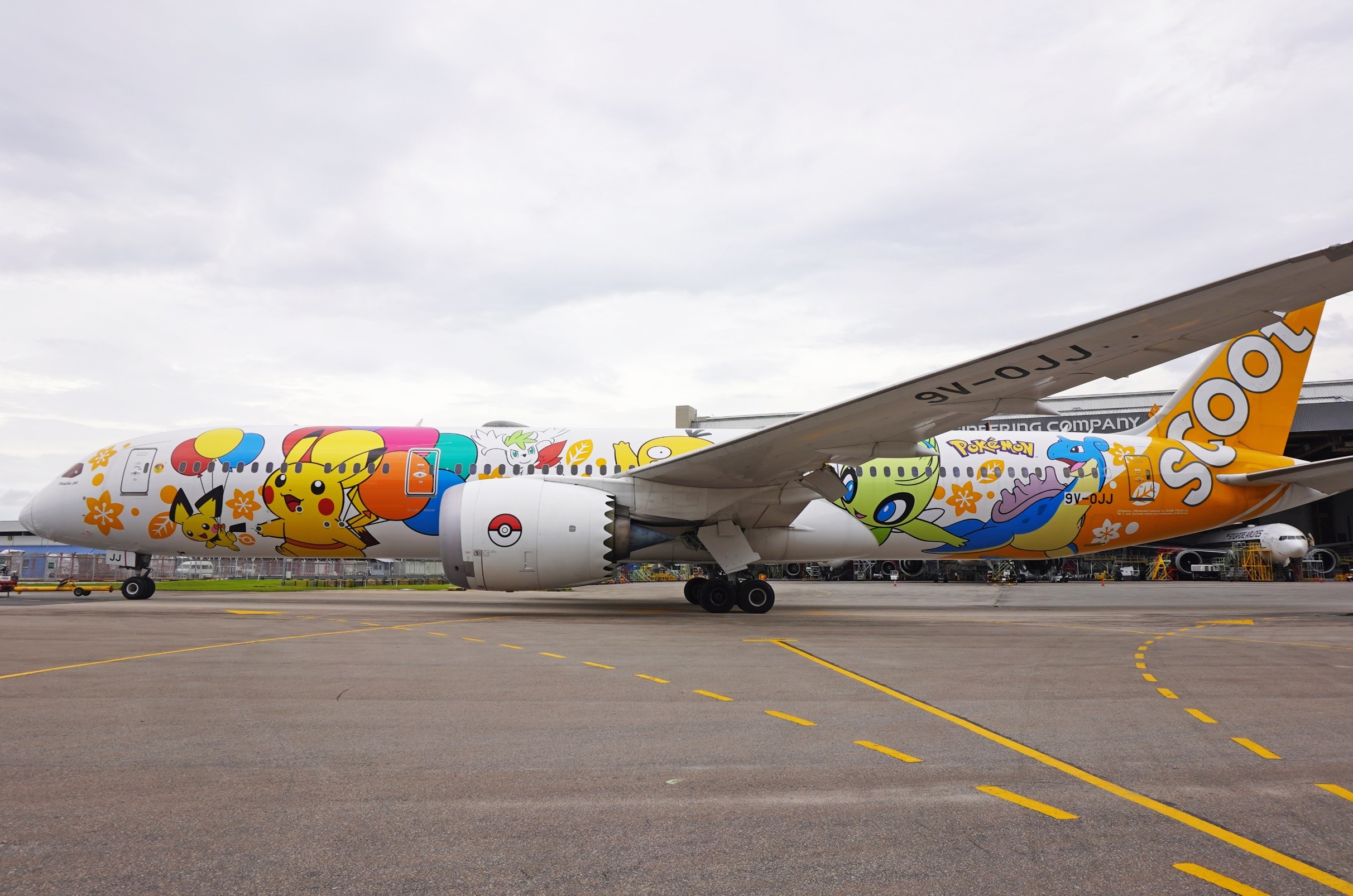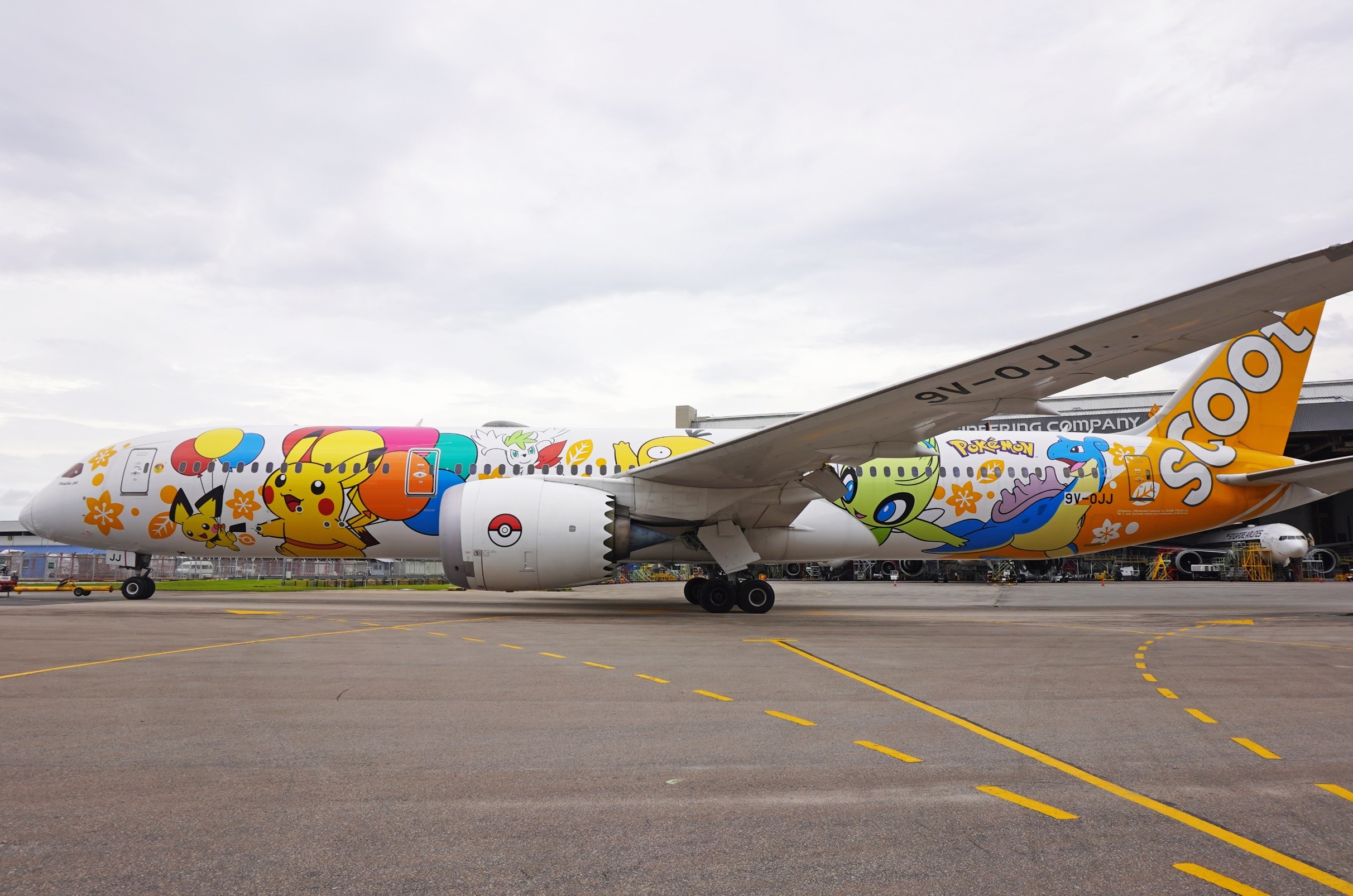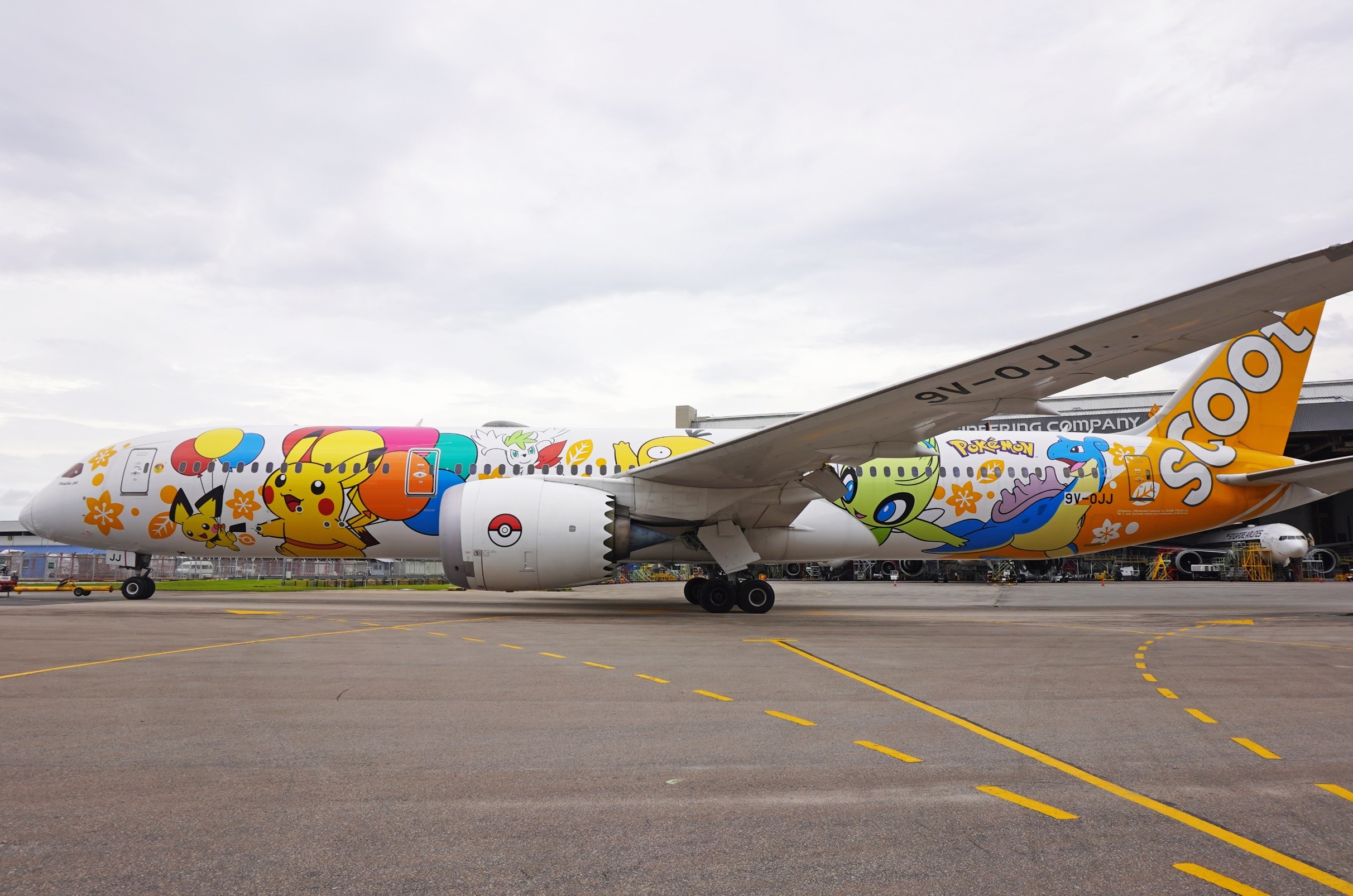 Scoot's Pikachu Jet TR emerging from the hangar in all its glory
Since 9 September 2022, there were two scheduled flights to Tokyo and Seoul for Scoot's Pokémon Air Adventures experience in September and October, with the rest of the flights rostered to other routes. These may change from time to time due to operational and maintenance needs, and passengers who eventually happen to be on these flights are surprised with a delightful experience. The flight routes for the Pikachu Jet will be reviewed periodically and will be posted when available, on Scoot's website.
Behind-the-scenes preparation for the first Pokémon Air Adventures flight
Previously known as "Holiyear", Scoot's 787-9 Dreamliner 9V-OJJ which has 375 seats, went through the process of having its previous livery sanded off, painted over with a new base and scuffed, before being adorned with the larger-than-life decals of the selected Pokémon characters. A clear coat was then sprayed all over the plane to set these and give it its beautiful, shiny appearance. After approximately two weeks, the Pikachu Jet emerged from SIA Engineering Company's hangar, ready to take Scoot's passengers around the world for Pokémon Air Adventures out of Singapore.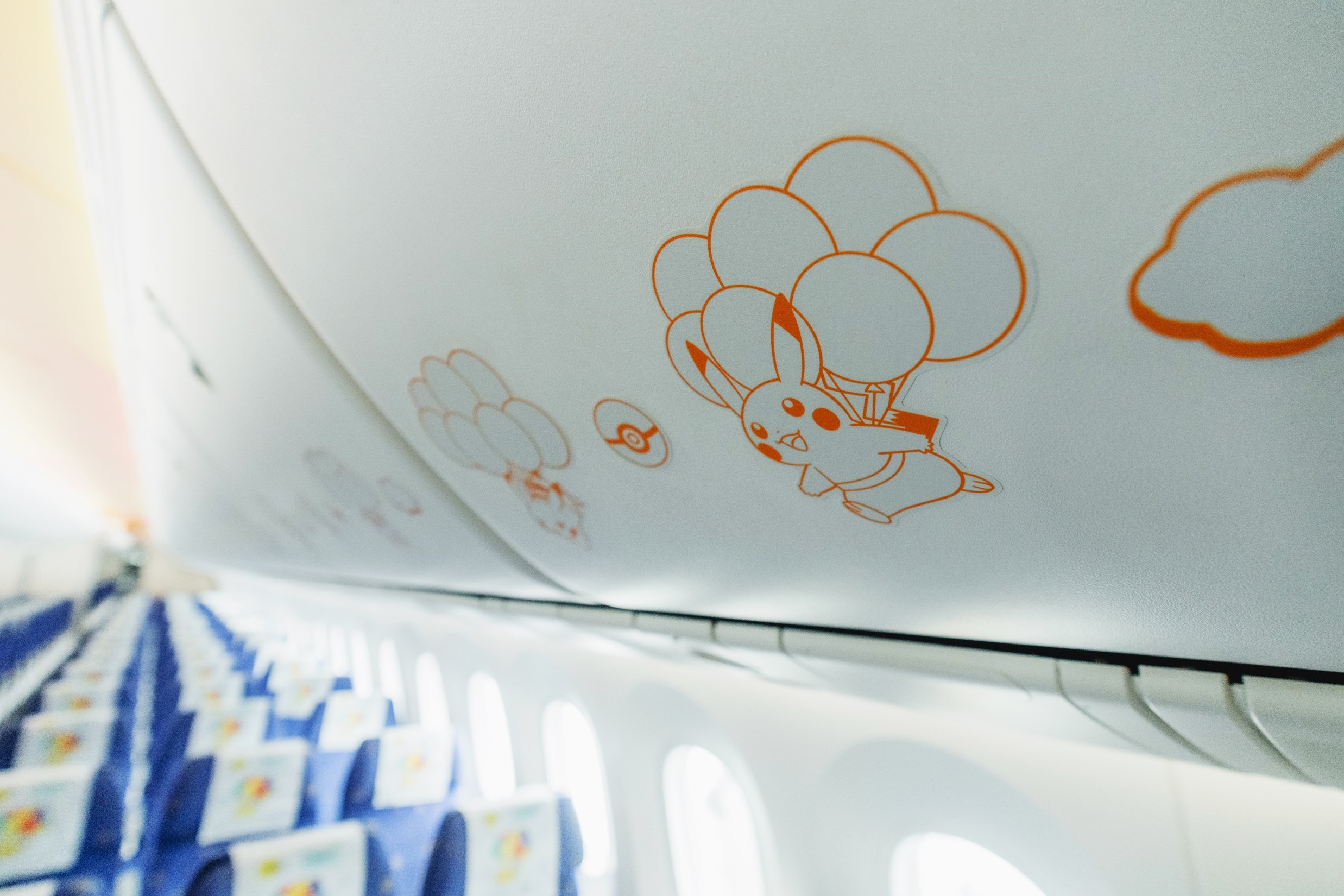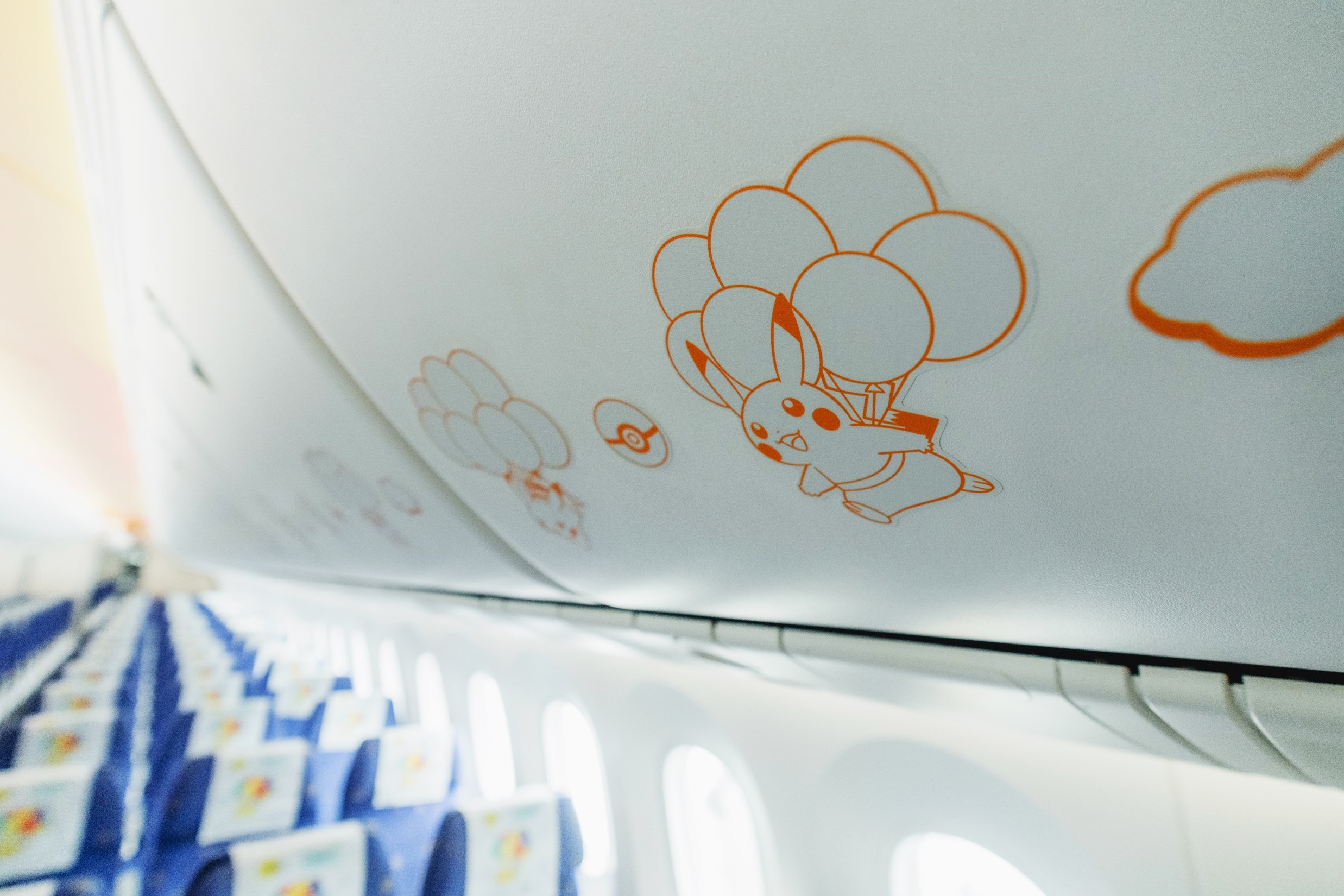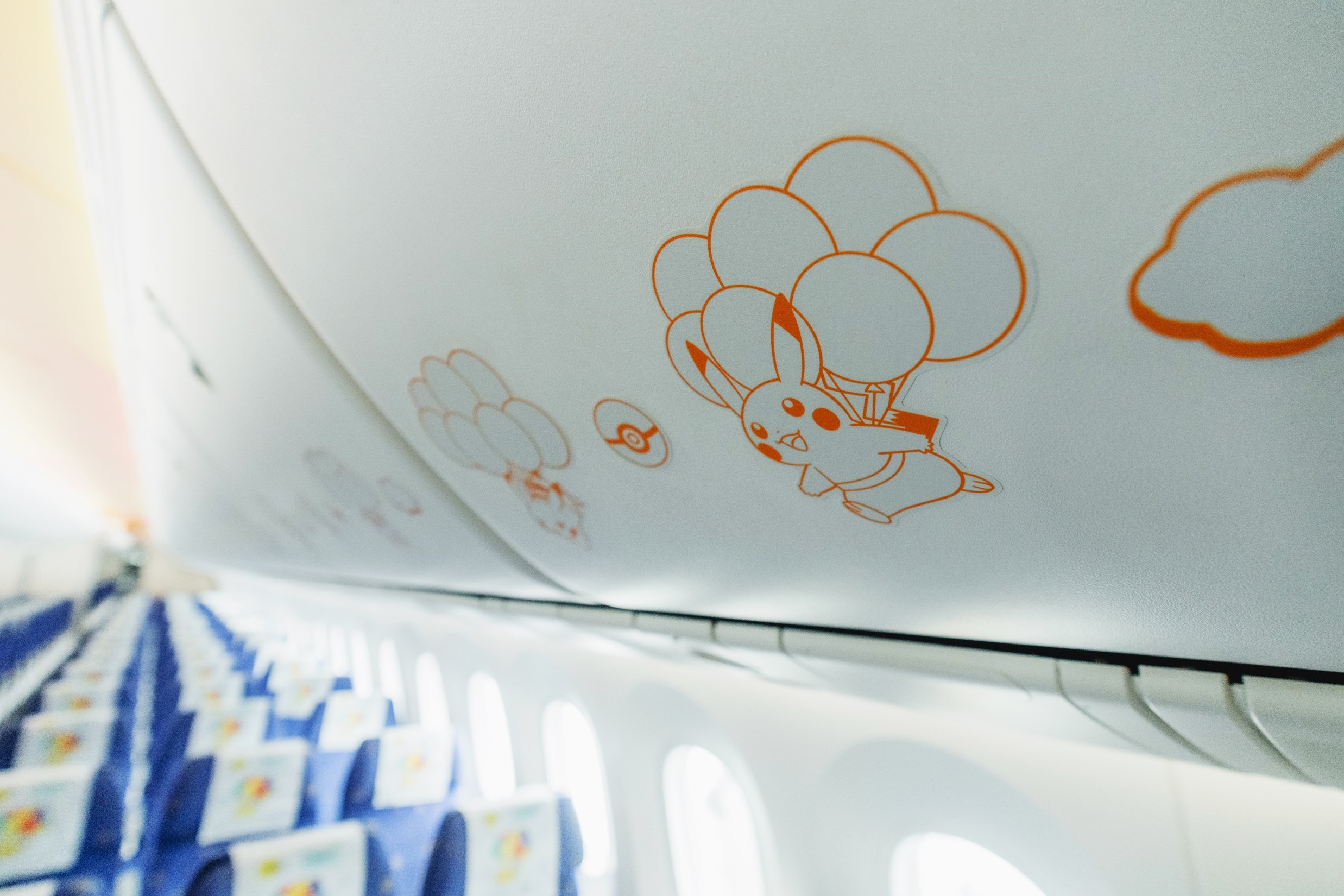 The adorable character decals on the overhead compartments
Besides the work that went into ensuring that the exterior was beautifully designed and crafted, Scoot staff from the Engineering to Cabin Services to Marketing teams, were involved in curating and preparing for the inflight experience as well. The interior of the aircraft featured Pokémon character decals on the overhead cabins and a specially designed headrest cover, which were installed by hand.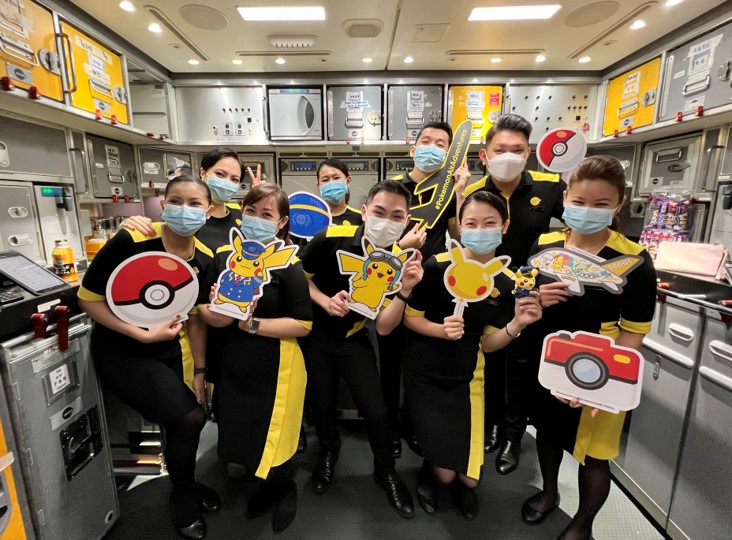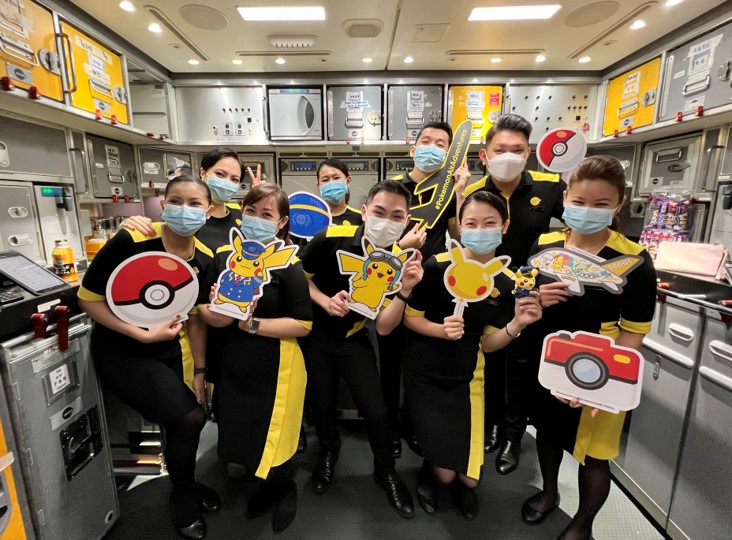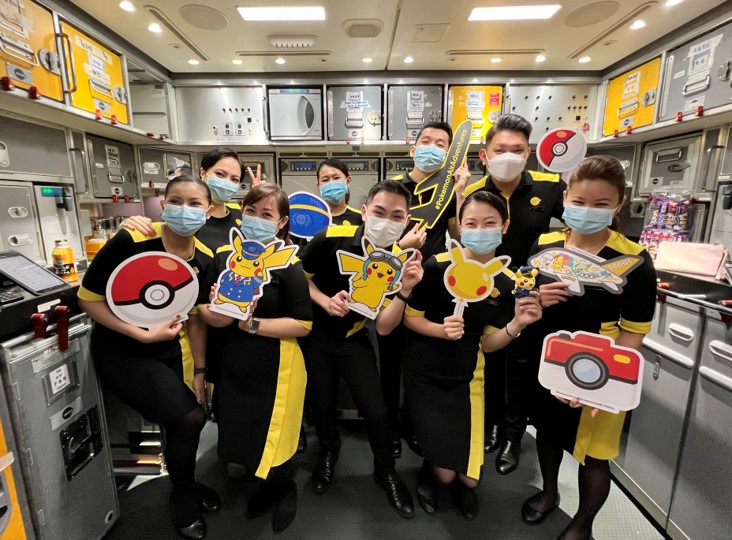 Scootees on our inaugural Tokyo-Singapore Pokémon Air Adventures flight on 9 September 2022
Special Scootitude activities were planned for these flights by Scoot's cabin crew, also fondly known as 'Scootees' – including engaging games, Pokémon music and themed photo props that were available for the Pokémon Air Adventures flights.
An innovative inflight experience for everyone
Whether you are a Pokémon fan or not, Scoot's Pokémon Air Adventures is for you. This unique inflight experience includes specially created themed inflight announcements, original merchandise and even cups and serviettes that are served with Japanese inspired dishes. These, coupled with the Scootitude activities, are suitable for the young and young at heart to enjoy, and have a fun time onboard the flight.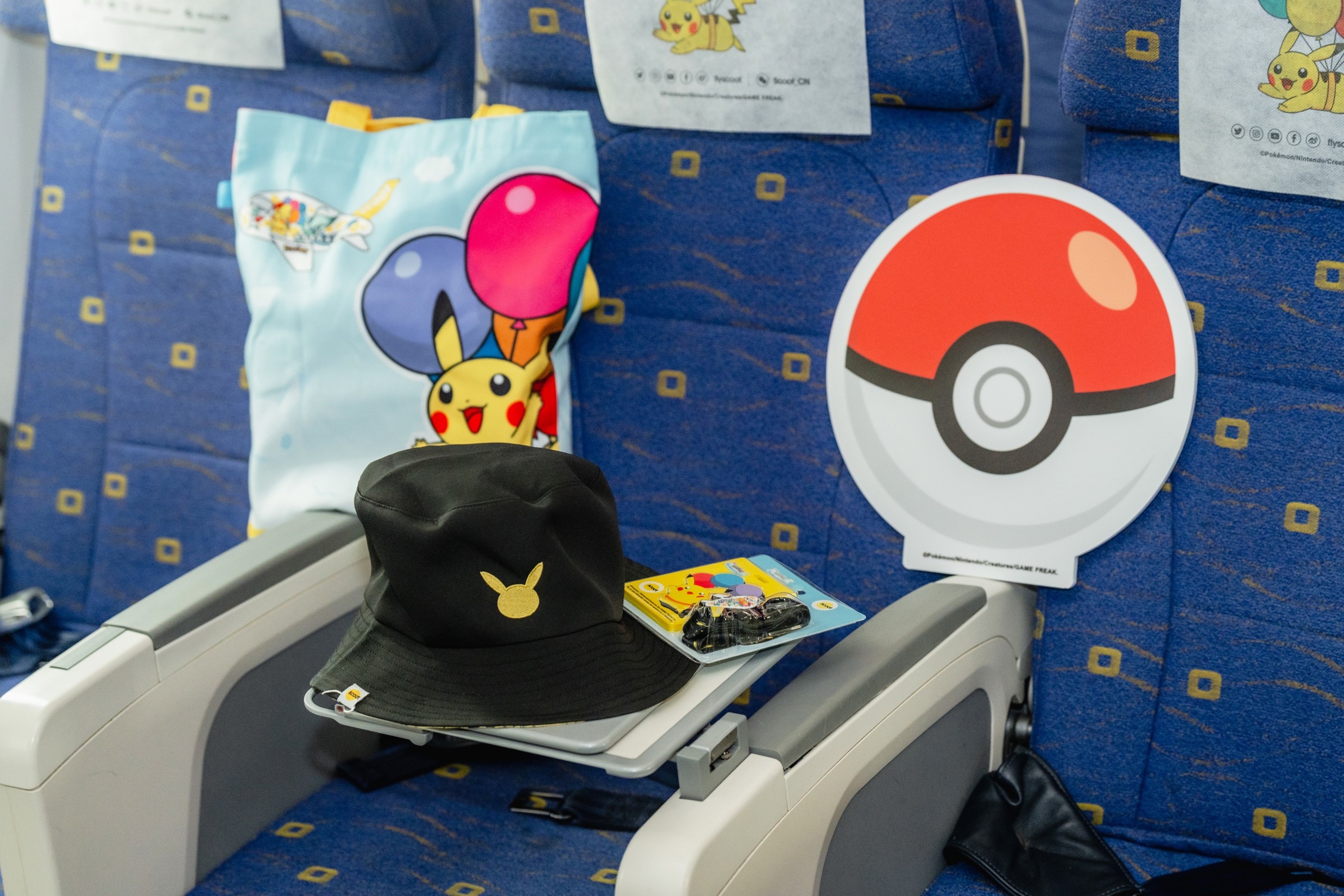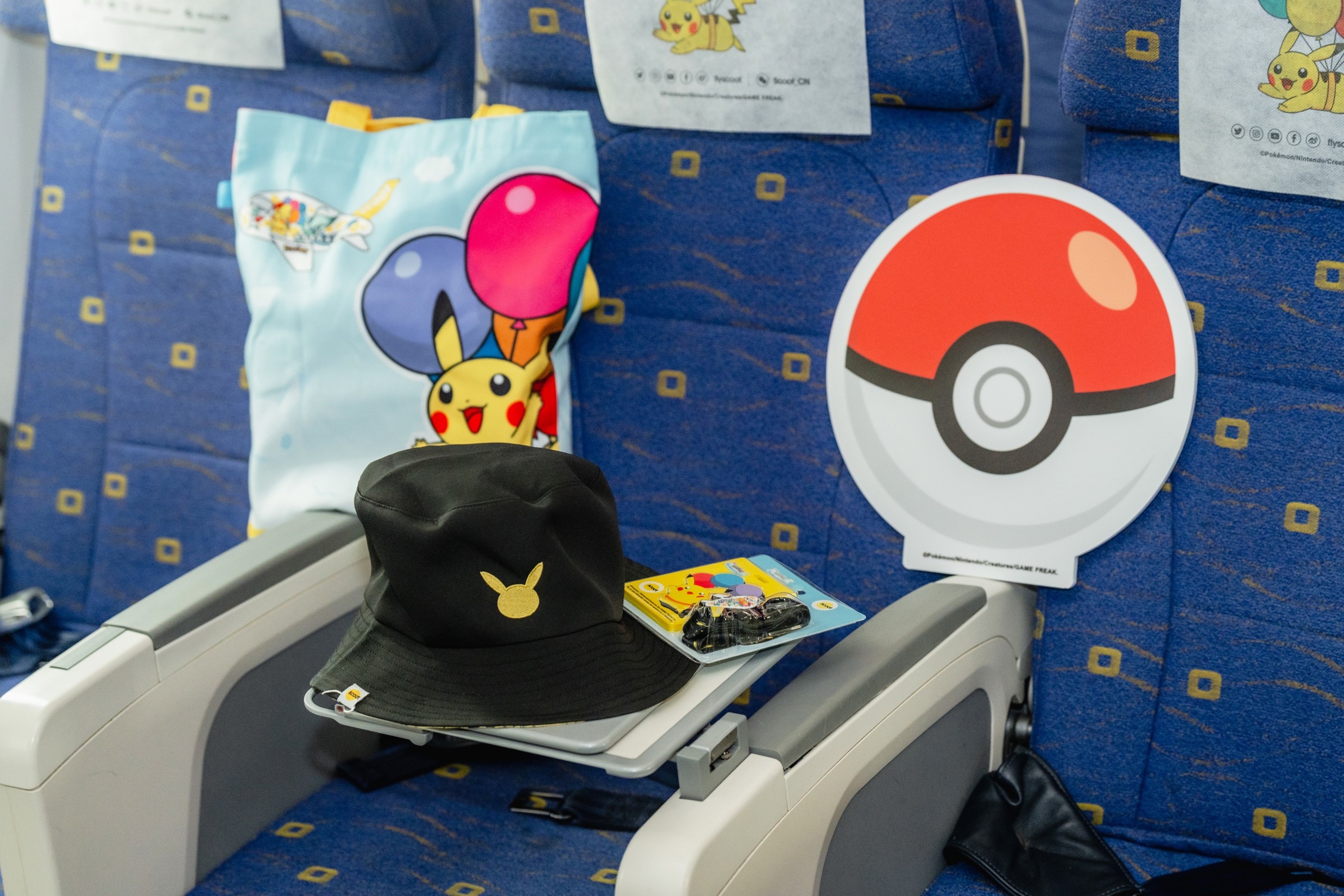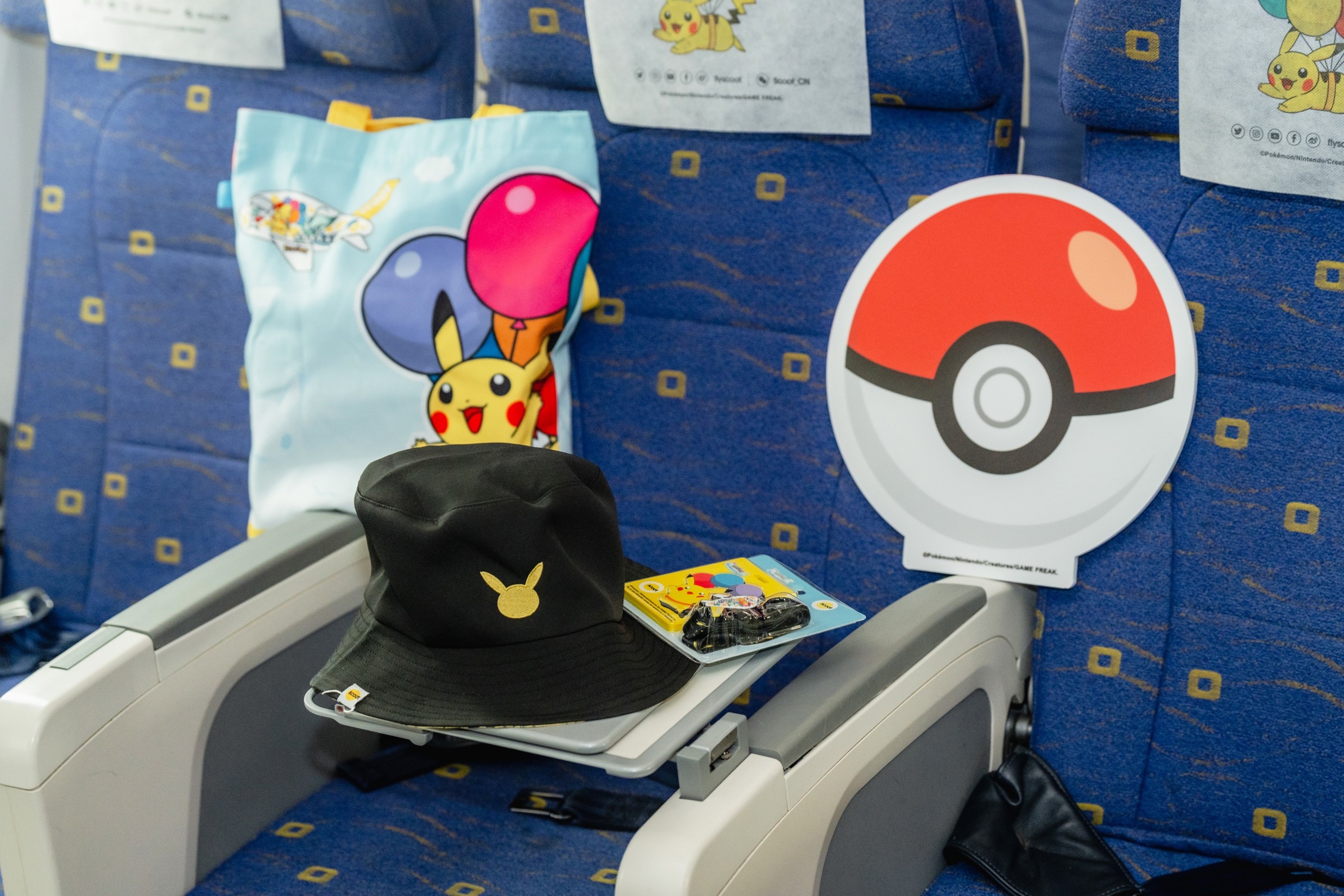 The three original merchandise items currently available for purchase on the Pikachu Jet
Wan Rafidah, Section Manager, Marketing at Scoot, who was in charge of this special project, said: "This is a very exciting, unprecedented partnership for Scoot, which required us to work together with many external and internal teams. It was challenging at certain points, but it is all worth it to create unforgettable moments and memories for our customers, with the widely popular Pokémon global franchise."
To get a behind-the-scenes peek into the livery preparations of the Pikachu Jet, watch the video by Scoot below.